Adopt A Roof has been making steady progress since it was founded in October 2017 helping BVI relief efforts in the Caribbean. Here are the stories of six roofs rebuilt for Tortola residents impacted by the hurricanes of Fall 2017.
ROOF 1. Linda Stevens, East End, Tortola
Our first roof, started in November after Regis met Linda's daughter and heard of Linda's plight. Sadly, without a roof on the top floor Linda was confined to the ground floor room where she had to live, eat and sleep. AAR was able to completely rebuild her roof. Thanks to local donations of timber and RFA's voluntary work efforts. Linda stated that she was simply, "happy to be able to use all my home again and have a real bed." Builder: Rufred Forbes Associates
ROOF 2. Arona DeWindt. East End, Tortola.
Still with limited funds AAR was determined to keep momentum. Close by Linda's home Arona's small home and plant nursery had taken a beating. This was a perfect follow-up home for the AAR team. Associates. Cost $13,500. Thank you Tortola Ladies Club! Builder: Rufred Forbes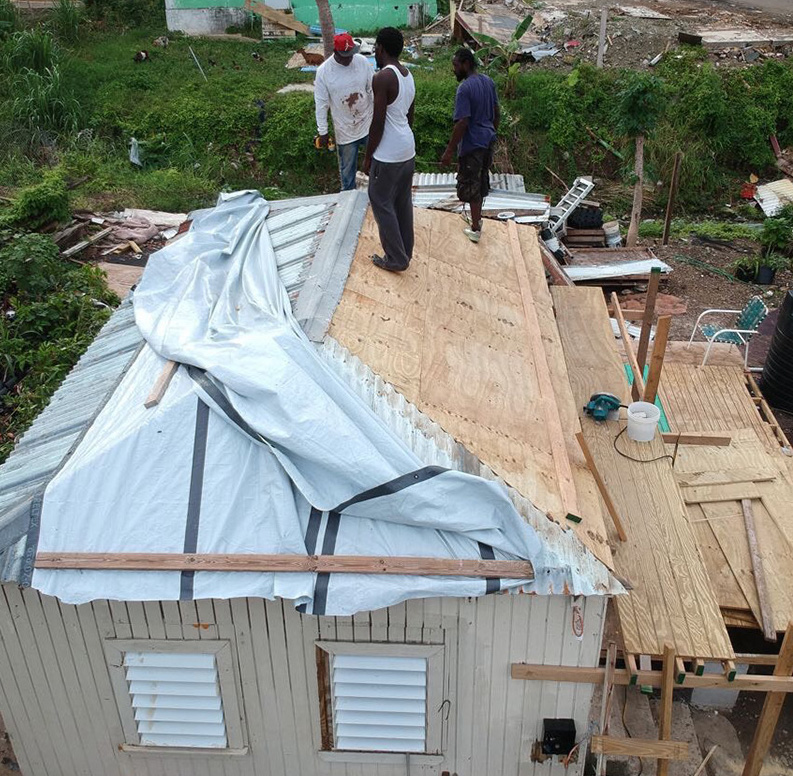 ROOF 3 Edith King, East End, Tortola.
We had assessed Edith's home in November but it was late December before we got to her home. She was living in dreadful circumstances, so it was critical to get her home back to a fit state. The RFA team even worked over the Christmas period so that she could have the roof completed by the new year. Completed. Cost $18,000. Thank you Ted & Nanny Cay! Builder: Rufred Forbes Associates (RFA)
ROOF 4. Yolande De Castro East End, Tortola
Yolanda's home was severely damaged and with a large family to look after, AAR came to the rescue to replace the roof joists, ply and water shield. Cost $19,000. Yolande will fund completion with galvalume. Thank you Alliance Group! Builder: Rufred Forbes Associates (RFA)
ROOF 5. Kelima Penn, East End, Tortola
The first roof by Jerome Fahie, and our first 'full contract' roof. A great job by Jerome. Cost $18,055. Completed. Thank you Step Up, Ted & Nanny Cay, Alliance!

ROOF 6. Rosie Fanord, Harrigans Estate, Tortola
Rosie's roof was assessed by the team a couple of weeks ago. It was deemed technically feasible for a new roof and the level of hardship prompted AAR to make her roof the next in line. Builder: Wakimba Lettsome, Realesco. Est cost $24,000. Thank you Step Up, Ted & Nanny Cay, Alliance

ROOFING COSTS IN THE BVI
We don't cut corners when it comes to roof repairs. We want our roof to stay put…forever. For that reason, we use hurricane rating joists, beams and plywood. All the timber is securely fixed using hurricane ties and ALWAYS using screws rather than nails. We then wrap the ply in 'Grace' ice and water shield…. the best on the market. Finally, we apply galvalume sheeting to finish the job off.
Our estimates show that a typical roof built this way costs around $20-30,000 depending on size and complexity. That price is based on AAR measuring and assessing the roof, buying the materials and employing a contractor on a fixed labour rate of $15 to $18 per square-foot or full materials & labour of $23 to 31 per square-foot. With such expense, we are always in need of funds because there are so many desperate families with badly damaged homes.
BVI ROOF REPAIR CONTRACTORS
AAR teamed up with Rufred Forbes Associates (RFA), a dependable construction company in BVI. Many companies are simply overwhelmed with work, so it's a challenge to find contractors willing to work for our lower rates. Recently we also engaged Jerome Fahie contractors and Wakimbe Lettsome (Realesco) and we are seeking a West End contractor to enable AAR to support a wider area. Our heartfelt thanks go to these businesses that understand what we are trying to accomplish.

Other Assistance Provided
On occasions, some residents have been able to make a start on their roofs. In those instances AAR has supported them with materials.
Donate to Adopt a Roof
Ever since Adopt A Roof was founded in October 2017, we have been amazed at the generosity of donors from all over the world. As well as BVI, UK and USA we have seen donations come in from Germany and Australia. Donations directly to AAR have reached $160,000, while a further $80,000 is awaiting use in the One Love BVI account.
What has also been fantastic to see is the wide range of donations from a few dollars to many tens of thousands of dollars, from individual donors to large corporate supporters. We thank every single one of you.
Learn more about Adopt A Roof BVI or donate.