From the 2018 Commodore's Report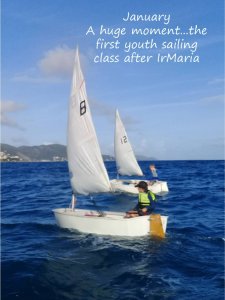 As 2018 draws to a close, I would like to thank everyone who has supported the RBVIYC over the past year.  The sailing community is an incredible family throughout the world and we are enormously grateful for all the contributions that have helped us get back on our feet since the events of September 2017.
Our youth sailing programme is returning to it's former glory with active classes, watersports camps and racing activities.  Toby McCullough joined the team from Northern Ireland in July, thrown in at the deep end to a busy summer of camps he is now running a maxed out after school and Saturday programme.
None of this would be possible without hard work and dedication to raise funds for new equipment, repairing equipment and keeping the faith in our young people.
It is a huge honour to acknowledge the generous contribution of one of our founder members, Mr Peter Haycraft, who enabled us to purchase seven of our new boats (four Optimists and three RS Fevas).  At our annual awards this year, Mr Haycraft was awarded the Roslyn Griffiths Memorial Trophy for Outstanding Service to the Club which goes just a small way to expressing the appreciation of the club and our young sailors.
We would also like to recognize:
Manhattan Yacht Club – Optimist 'Liberty'
West End Yacht Club – Optimist 'Loyalist'
Quiz Night – RS Feva 'Quizzical'
Nanny Cay, Doyle Sails, B+G, Conch Charters, Gene's Bar and Grill, Golden Hind Chandlery, the Royal Canadian Yacht Club, Fresh Mango, the Charter Yacht Society, O'Neal and Mundy, TICO, Road Town Wholesale, Kyle Roose, Sam Childs and Sailor's for Hope and all the individuals who have given donations, their time and their energy.
The new RS Fevas have proved to be an excellent addition to our fleet, loved by kids and adults alike so we are looking forward to really putting them through their paces in 2019…..
Season's Greetings and fair winds for 2019.
Giles Wood, Commodore